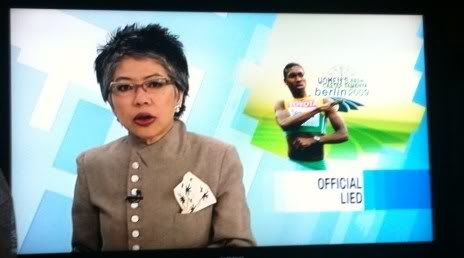 Image from SBS (Sunday 20th September 2009)
ChinnyEm: Hi Chinny! Nice to see that you haven't been eaten by a shark, burned alive or suddenly decided to sell all your clothes (gasp! if you do, you know who to tell...). ChinnyPea and I nearly killed ourselves last week. Where did you go, babe?! Ah well, all that matters is that you are safe and sound and will be lighting up our screens each weekend from here on. I admit, I wasn't around to see your amazing return on Saturday butI did manage to see your brown number yesterday. MHMMM A HINT OF A DECONSTRUCTED COLLAR NEH?! And no lapel- just a single row of buttons running downwards! Bravo. I see you are trying to be all dapper with the addition of the origami folded hanky in the pocket too. Very nice. Very nice indeed.
Hey, since it's spring and all now, can you maybe put away the dreary brown next time and pull out, say, I don't know...something GREEN?! :) Then my life would be complete.
ChinnyPea:
"We have missed you so!!!!!! Welcome back! We felt so empty without you last weekend. And feared the worst - that you have left SBS without even saying a proper good-bye. We can breathe easy now!
Loving the overlapping collar detail. And the contrast-y buttons. And the embroidery on the 'kerchief in your pocket. Cute!
I really can't concentrate on "dissecting' your outfit today, Ms Chin! Still reeling from the fact that you're back at the news desk and that we have not lost you! Please don't do that to us again!"